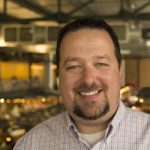 Growing up, Scott lived in a house on a street named Capewood Place. It had a large yard with a white picket fence. It was in this house where Scott learned to ride a bike, fix a go cart, get along with his sister, drive a lawn tractor and the importance of being honest (possibly as the result of running over a number of sprinklers with the lawn tractor).
When launching his software consulting business, Scott wanted to emphasize integrity and trustworthiness. For Scott, this home was an icon of the trust and safety he experienced as a child. So it was a natural choice when it came to deciding on the name of this business.
It is no coincidence that Scott also wrote his first simple computer program in this house on Capewood Place.
Scott Isaacs is the author of Beginning Windows Store Application Development–HTML and JavaScript Edition (Apress, 2013). He also organized the WI .NET Users Group for over 9 years.  He has worked in a number of industries, including government, news, finance, marketing, and product development, holding early positions at three successful start-ups.
Scott's Recent Blog Posts
We have been updating our website for a couple weeks, and it's finally live. I especially hope you'll check out Our Purpose, […]
Continue reading
Hi, we're new around here. After nearly two decades of creating software in the Midwest, we are now launching here […]
Continue reading